Now the New Year 2013 is at our doors. On the New Year with new events that celebrates all the festivals and special days too.
India is a great country with vibrant colors, traditions, cultures, rituals, values and especially its lively festivals. So we can say India is a land of diverse festivals. Now a day's celebration is not limited to the national boundaries. Today we will celebrate other countries too. Indians present several cultural festivals according to their own cultures. Basically the four major religion groups of India namely Hinduism, Islam, Christianity and Sikhism celebrate several colourful religious festivals in every year.
Festival is a celebration of life. It brings peace and joy to the masses, builds family bonding and breaks the monotony of life. We can divide festivals and celebration in 4 type's national, religious, seasonal and special days.
National are like Republic day, Independence Day, Children day and so many more.

Religious are like Diwali, Holi, Raksha Bandhan, Christmas, Durga Puja, Janmastami, Dusshera, Karwachauth, Lohri, Onam , Pongal, Ugadi, Eid, Ramzan, Easter, Bhaidooj , Navratri, Halloween and so many more.

Seasonal are like Teej, Ganesh Chaturthi, Baisakhi, Makarsakranti and so many more.

Special days are New year, Valentine day, Thanksgiving day, Friendship day, Mother day, Women day, Father day, Good Friday so many more.
Indian Festivals, celebrated by varied cultures and through their special rituals, add to the colours of the Indian Heritage. Some festivals welcome the seasons of the year, the harvest, the rains, or the full moon. Others celebrate religious occasions, the birthdays of divine beings, saints, and gurus (revered teachers), or the advent of the New Year. A number of these festivals are common to most parts of India. However, they may be called by different names in various parts of the country or may be celebrated in a different fashion.
Every celebration is
centered
on the rituals of prayer, seeking blessings, exchanging goodwill, decorating houses, wearing new clothes, music, and dance and feasting.
The emphasis laid on the different festivals differs in different parts of the country. For instance, Navaratri is celebrated with maximum fervour in West Bengal as compared to that in other parts of the country. Holi is celebrated with gusto in the north, and although it is also observed in the western and eastern parts of India, in the south it is almost unknown. There are also a few regional festivals like Pongal in Tamil Nadu; Onam in Kerala and the various other temple festivals devoted to the specific patron Gods and Goddesses of the temples, which are celebrated exclusively in those areas, which may be limited to one or a few villages.
The event is based on the festivals and festive food that why I choose
Foodabulous Fest
, monthly based different festivals celebrated throughout India with great enthusiasm, from January to December.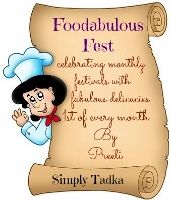 I'm happy to announce this new monthly event
"
Foodabulous Fest- Monthly Series
",
with lovely Giveaway
actually the whole idea of this event is come through Indian festivals and my last two events where I used festival celebration theme. India is a country with full of festivals and celebrations whole year. So I decide to take this as a theme because every month we prepared tradition food or as per our taste buds something for festivals and cultures. Then I planned this monthly event which host by Simply TADKA for lovely foodies to get more cuisines from different cultures and states in India. Under this event, you are not only cook, post and share with me but also give vote to participant's recipes for giveaway which sponsored by Simply TADKA only.
This event is not about only cooking and sharing but also winner will be got surprised giveaway that can be anything but very useful and impressive for sure.
Followers of Simply TADKA or Fans of Facebook page are eligible for giveaway.
Event is start every 1

st

day of Month to 30

th

month. And roundup and winner will be announced within max. 10 days of next month. But for vote you have to submit your recipe till to 30th of every month.

For participation in this event, you have to become a member of Simply TADKA Blog via G.F.C and follow Fan Page of Simply TADKA on Facebook.
Event is open for both bloggers and non-bloggers. Bloggers can send me your recipes through Blog post and Non Bloggers send me recipes through share a recipe tab on blog which upload by me with author name as a share your delicacies. (Just follow the format of form)

Giveaway is only for who have Indian shipping address with Email id and Mobile number and there is maybe two or more times when giveaway is open for international too in each year. (depend on involvement)

No archives please. Only fresh and vegetarian recipes are allowed. Eggs are allowed in case of baking only. No limit to the number of entries.

For sharing your recipe, you can use linky tool which given in the last of every month post.

Use of logo and linked with Foodabulous Fest- Monthly Series hosted by Simply TADKA.

Leave a comment with G.F.C name and number of entry in case software not working properly.
For more detail you can send me your suggestion and queries on my id i.e simplytadka

@gmail.com

.
If this event gets success within whole year then after this I will add one more great twist which definitively like by my viewers and co-bloggers.